COLORBOND® Steel Roofing is an iconic brand that has become a household name in Australia. Not only is COLORBOND® well renowned, it's also used in the construction of most Australian homes.When you mention the COLORBOND® steel name most people automatically think roofing. Which makes sense, COLORBOND® steel is used as a roofing material for so many homes. But COLORBOND® steel is also used in other applications around Australia's homes because of its durability and design flexibility:
Secure, stable and made to last fencing

Durable and attractive exterior wall cladding or an interior feature

Guttering that performs in all types of weather
Evolving into one of the world's most advanced building materials over the past 45 years, COLORBOND® steel has become Australia's single most popular roofing brand. The reasons for its popularity are based in its sleek and elegant looks as well as its durability and thermal performance.


COLORBOND® steel is available in a range of 22 colours, which celebrate the natural beauty of the Australian landscape. From our mountains to the outback, from our creek beds to our sand dunes, COLORBOND® steel captures the light and energy that make Australia's colours so unique. With 22 inspired colour choices ranging from traditional to contemporary, COLORBOND® steel provides the ideal palette from which to create the desired look and feel for your home and garden.
Click here to download colour chart
Wall Cladding That's Beautiful to Look At and Easy to Live With.
Wall cladding made from COLORBOND® steel provides an attractive, durable and thermally efficient alternative for modern home design. With a range of 22 beautiful colours, wall cladding made from COLORBOND® steel gives you an ideal palette from which to colour match or co-ordinate your other external features such as roofing, guttering and rainwater tanks.
As a wall cladding material, COLORBOND® steel provides a tough barrier to storms, hail, falling branches and bumps and knocks. And because it's non-combustible and 100% termite proof, it's an ideal building material that adds to the overall security and durability of your home.


Finally, because of its superior oven baked finish, and its resistance to chipping and flaking, wall cladding made from COLORBOND® steel makes a very durable, low maintenance alternative.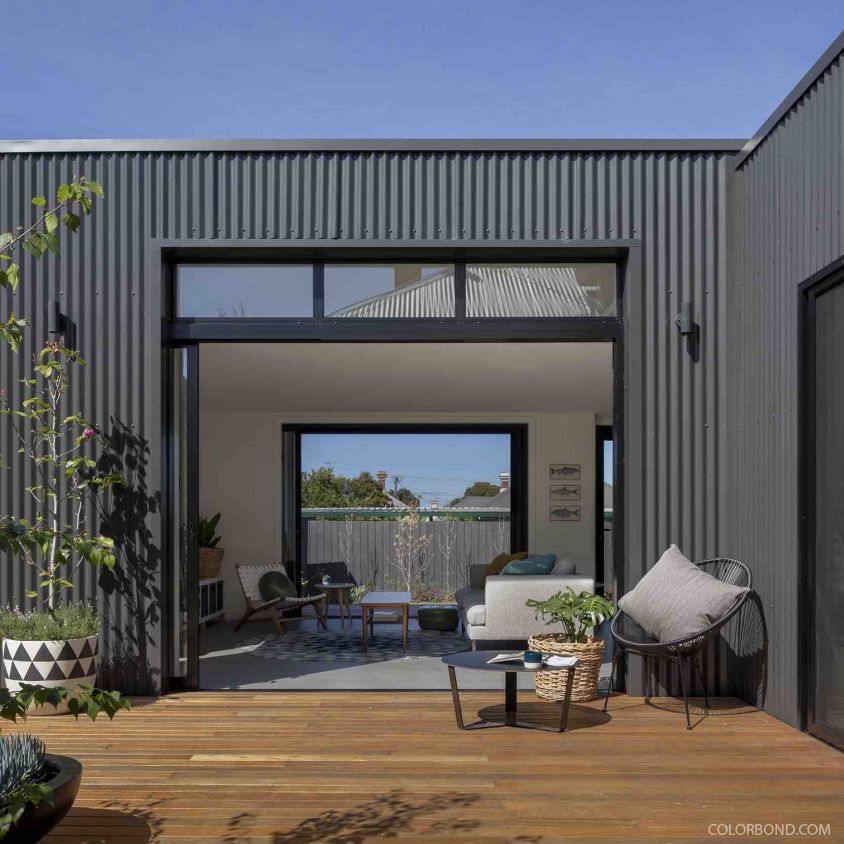 Guttering That Works Beautifully, Come Rain or Shine

Gutters, downpipes and fascia don't just add an attractive finish to your home, they are important components that can protect your home from serious stormwater damage. That's why you can have peace of mind when your rainwater collection system is made from COLORBOND® steel – it's been tested to withstand everything from drenching downpours to scorching sun for over 45 years in some of Australia's most extreme conditions.
However, we realise that your guttering system not only has to perform well, it also has to look beautiful and add an aesthetic finishing touch to your roof and home. Our palette of 22 beautiful colours are designed to perfectly colour match your roof made from COLORBOND® steel. And because of its proven durability and low maintenance qualities, you can be sure your entire roof and guttering system will continue to perform and look attractive for years to come.